Home

/

Sunlight Extra Antibacterial Dishwashing liquid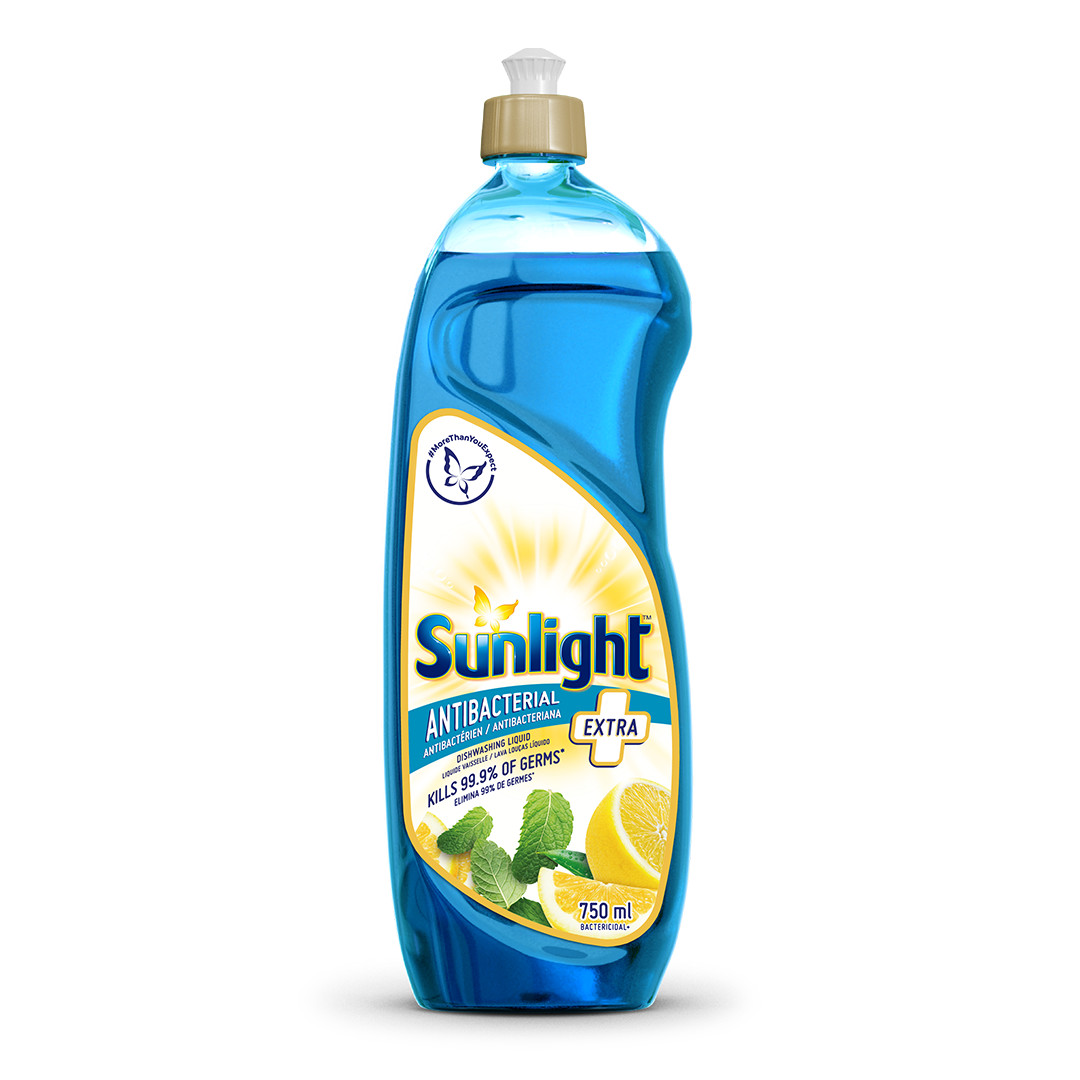 Sunlight Extra Antibacterial Dishwashing liquid
Combining the remarkable cleaning power of Sunlight with inspiration from nature, Sunlight Antibacterial dishwashing liquid is uniquely and expertly formulated to provide your dishes with a superior clean every time you wash for sparkling clean, shiny dishes.
As you wash your dishes to get them spotlessly clean, it's easy to overlook how clean your dishwashing sponge, cloth or brush are. The reality is that over time, as you wash your dishes, germs and bacteria can gather in your dishwashing utensils. Fortunately, every drop of Sunlight Extra Antibacterial dishwashing liquid with real lemon juice, mint, and lactic acid degreases and kills 99.9% germs* to leave your dishes and kitchen surfaces spotless, sparkling and hygienically clean.
When you wash your dishes with Sunlight liquid, you can trust that it will effectively cut through grease, grime and tough dirt because Sunlight antibacterial dishwashing liquid keeps your dishes sparkling and your dish sponge hygienically clean and germ-free. So, when you choose Sunlight, you know you're using one of the most effective dishwashing soaps around.
* On the sponge, when used undiluted
Benefits
Kills 99.9% of germs*
Makes dish washing fast and easy
Effective antibacterial dish soap for leaving dishes spotless and hygienically clean
Effectively cleans crockery, utensils, stainless steel and plastic items
Warning: Keep away from children. Keep away from eyes. Rinse hands after use. Do not ingest. Not intended for internal use. First aid: In case of contact with eyes, rinse immediately with plenty of water and seek medical advice. If swallowed, seek medical advice immediately and show this container or label.
Surfactants

Solubilisers

Colourant

Perfume

Contains Isothiazolinones

Antibacterial Ingredient: Lactic acid
Use this antibacterial dish soap undiluted on your sponge to kill 99.9% of germs
Fill the sink with water

Add a squeeze of Sunlight Extra Antibacterial dishwashing liquid to the water

Mix well to create a thick foam

Add your dishes and wash thoroughly with a sponge or cloth

Rinse your dishes well
*The efficacy of this product could be compromised if surfaces are soiled, leave to act for 5 minutes for Antibacterial action.
750ml bottle
750ml refill pouch